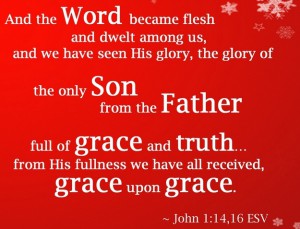 The meditation during the First Week of Advent was on grace.  When I read that, I felt myself sigh.  The world seems anything but graceful right now, and the gap between spiritual grace and material reality seems like a chasm.
Signs that grace is lacking are everywhere:  A horrible election cycle with the contention going beyond Election Day.   Encountering rudeness and selfishness everywhere in public—in the stores, on the roads.
You are, I'm sure, more gracious than I, but I feel myself constantly fighting a desire to push back and, sadly, to be even more ungracious than those I encounter.
God's grace to the ungracious
When I sit down to pray and think about it, however, I find myself yearning to be more Christlike, which for me means more gracious.  And most importantly, I find myself understanding how profound God's grace to me—and to all who receive His grace–really is.
It's in my ugly, selfish, wanting to shake my fist at rude people state that God extends His Spirit to me—the Spirit than enables me to surrender my selfish and ungracious desires to Him so that He can cleanse me and "renew a right spirit" in me.
When I hear someone being described as graceful, imagine a person whose movement looks effortless and free of stumbling or klutziness. When I hear of an act of grace, I think of a person showing kindness to someone who may not necessarily be able or willing to respond in kind.
When I consider God's grace, I am overwhelmed by how one-sided His grace to me is and how truly beautiful His act of grace to His people is.
In Jesus, we see God choosing to have his son born as a man in a position not so graceful or elegant to human eyes.  Not many would choose to be born or have their child born in the circumstances in which Jesus was born.  He wasn't born "in the poor people's hospital," he was born out with the animals.  He lived a humble life out among ungracious people, just like me and those I live amongst.  He lived without luxury and died an egregious death no one would choose for themselves or their child.
And all this was done to reconcile ungracious, unlovely people like me to Himself, through a gift of unmerited favor.  This Christmas I choose to meditate on and give thanks to God for His gracious gift of salvation and the peace and hope it brings.